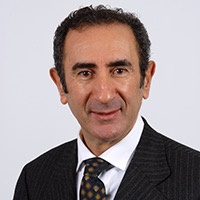 Justice Dr Fatsah Ouguergouz
Justice Fatsah Ouguergouz, an Algerian national, is a distinguished jurist and international independent arbitrator. He has over 30 years of experience in international law, including more than 25 years of practice in international judicial matters, arbitration, mediation and conciliation. He was one of the first eleven judges of the African Court on Human and Peoples' Rights (Arusha, Tanzania), elected by the Assembly of Heads of States of the African Union; he served the Court from 2006 to 2016 and served as Vice-President from 2012 to 2013. Prior to his election to the African Court, Dr. Ouguergouz was Secretary of the International Court of Justice (The Hague) from 1995 to 2006; Legal Officer at the United Nations Office of Legal Affairs (New York) from 1992 to 1994.
Justice Ouguergouz is currently co-arbitrator in a case under UNCITRAL Arbitral Rules between two investment companies and a State. He has also been co-arbitrator in a dispute between an investment company and a State, brought before the Permanent Court of Arbitration (concluded) and sole arbitrator in Mr. Mohamed Ismail Reygal (Somalia) v. The United Nations High Commissioner for Refugees (UNHCR) also brought before the PCA (amicably settled).
In December 2020, Justice Ouguergouz was appointed to the Supreme People's Court of China, China International Commercial Court as an Expert of the International Commercial Expert Committee.