Mr Leong is an international arbitration specialist with more than a decade of experience in complex cross border commercial disputes. He served in a judicial capacity as a Magistrate and Assistant Registrar of the Supreme Court for five years, where he published several notable written judgments on international arbitration law. Mr Leong was the Head of the Court of Appeal Section of the Supreme Court Registry, and was involved in the establishment of the Singapore International Commercial Court (SICC) as Secretariat of the SICC committee.
Read more
Phoebe Okowa is Professor of Public International Law and Director of Graduate Studies at Queen Mary, University of London. In 2017, she has been appointed by Kenya as a Member of the Permanent Court of Arbitration, The Hague. An Advocate of the High Court of Kenya, she has acted as counsel and consultant to governments and non-governmental organisations on questions of international law before domestic and international courts. Her notable cases as Counsel and Advocate before the International Court of Justice include Maritime Delimitation in the Indian Ocean (Somalia v. Kenya), Case Concerning Application of the Genocide Convention (Gambia v. Myanmar) and Legal Consequences of the Separation of the Chagos Archipelago from Mauritius in 1965, which involved a re-examination of the legal consequences of self-determination in the context of decolonisation (as a legal advisor to the Government of Kenya in connection with its intervention in the advisory proceedings). Professor Okowa has also published over 30 articles, book chapters, shorter comments and reviews. She has written on a wide range of contemporary international law topics, including the interface between state responsibility and individual accountability for international crimes, unilateral and collective responses to protection of natural resources in conflict zones, and aspects of the protection of the environment.
Read more
Mr Sameer Shah is an advocate, arbitrator and mediator based in Gujarat, India. With more than 26 years of active legal practice and experience, he is the Senior Partner of Trust Legal, Ahmedabad office and Founder of S.U. Shah & Associates, Advocates, Arbitrator and Legal Consultants. Among others, he is also a Director of the Chartered Institute of Arbitrators (CIArb) India; Chairman, International Dispute Resolution & Risk Management Institute (IDRRMI Hong Kong)-India Branch and Panel Arbitrator, Court of Arbitration for Art (CAfA), Netherland.
Read more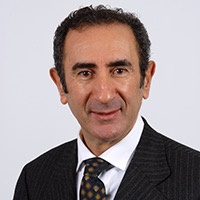 Justice Fatsah Ouguergouz, an Algerian and French national, is a distinguished jurist and international independent arbitrator. He has over 30 years of experience in international law, including more than 25 years of practice in international judicial matters, arbitration, mediation and conciliation. He was one of the first eleven judges of the African Court on Human and Peoples' Rights (Arusha, Tanzania), elected by the Assembly of Heads of States of the African Union; he served the Court from 2006 to 2016 and served as Vice-President from 2012 to 2013. Prior to his election to the African Court, Dr. Ouguergouz was Secretary of the International Court of Justice (The Hague) from 1995 to 2006; Legal Officer at the United Nations Office of Legal Affairs (New York) from 1992 to 1994. Justice Ouguergouz is currently co-arbitrator in a case under UNCITRAL Arbitral Rules between two investment companies and a State. He has also been co-arbitrator in a dispute between an investment company and a State, brought before the Permanent Court of Arbitration (concluded) and sole arbitrator in Mr. Mohamed Ismail Reygal (Somalia) v. The United Nations High Commissioner for Refugees (UNHCR) also brought before the PCA (amicably settled). In December 2020, Justice Ouguergouz was appointed to the Supreme People's Court of China, China International Commercial Court as an Expert of the International Commercial Expert Committee.
Read more
Dr Munin Pongsapan is Dean of the Faculty of Law, Thammasat University. He is currently Chairman of the Council of Legal Education, an association of leading Thai law schools, and a member of Thailand's regulatory impact assessment board. He obtained his LLB from the Faculty of Law, Thammasat University. He went to the University of Cambridge for his LLM and the University of Edinburgh for his PhD, where he wrote his thesis on breach of contract. Soon after he graduated his PhD in 2013, he was invited to join a book project entitled "Studies in the Contract Laws of Asia", which aims at publishing 6 volumes on various topics of contract laws in major Asian jurisdictions, including Thailand. The books were edited by Professor Mindy Shen-Wishart and other prominent scholars and published by Oxford University Press. He contributed to Volume I on remedies for breach of contract, Volume III on contract interpretation, Volume IV on defects in consent and Volume V on changing and ending contracts, the latter being the most recent. He has taught, researched, and published extensively in the areas of private law, especially contract and obligations law, comparative law and Thai legal history. His expertise focuses on breach of contract and contract interpretation. He has edited some of Thailand's most authoritative texts on contracts and obligations, including two gigantic volumes on juristic acts and obligations written by Professor Seni Pramoj. He has recently co-edited with Professor Andrew Harding the book "Thai Legal History: From Traditional to Modern Law" to be published by Cambridge University Press. He is Co-Editor in Chief of the Thai Legal Studies, the first English- language law journal focusing on Thai law. He is also a subject editor of the internationally accredited Asian Journal of Comparative Law. Between 2013 and 2019, he was the founding Director of the International LLB Programme in Business Law at Thammasat University, which is Thailand's first and only undergraduate programme in law entirely taught in English. He has recently been appointed as Visiting Professor at the Faculty of Law, National University of Singapore, and invited to teach an intensive course "Comparative Civil Law: Thai Contract Law" for LLB and LLM students in January 2021. It will be the first Thai law course ever taught at National University of Singapore. He conducted arbitrations both as a sole arbitrator and a co-arbitrator under ICC and TAI arbitration rules.
Read more
Dr Tangsatapornpan is the former Executive Director of Thai Arbitration Institute (TAI) and a judge of the Office of the President of Supreme Court. She teaches in various leading universities in Thailand. In her role with the government, Dr Tangsatapornpan participated in important legislative draftings, as the representative of the office of the judiciary in the consideration of the Council of State regarding to be the member of CISG Convention, drafting of the Contracts for the International Sale and Purchase of Goods Act, and as ad hoc committee member in the drafting of various regulations.
Read more
Padma Shri Dr T.K. Viswanathan is a legal luminary who has held various positions in the academia, Government of India and in Lok Sabha. During his four decades of his career he has served as a lawyer, as a Professor of Jurisprudence and as Secretary to Government of India in the Ministry of Law & Justice and as Secretary General of Lok Sabha. He has drafted many important landmark legislations over the past two decades and the Government has immensely benefitted from his expertise in legislative drafting and in parliamentary and constitutional matters. As Law Secretary he led the Indian delegation to UNCITRAL between 2006-2010. Dr Viswanathan in his capacity as Secretary General was also a member of the Parliamentary delegations accompanying the Speaker to Inter Parliamentary Union meetings and has visited Parliaments across the world. He was also consultant to the former President of India, Shri Pranab Mukherjee and at present the Director in the Pranab Mukerjee Foundation. Dr Viswanathan was awarded the State award of Padma Shri in 2017 by the President of India.
Read more
Andreas is a Swiss lawyer with the leading Swiss law firm Schellenberg Wittmer, focussing on international arbitration and litigation. He is currently also finishing his PhD thesis on expedited and summary proceedings in international arbitration at the University of Zurich. He holds LL.M. degrees from the University of Hong Kong (with a focus on international arbitration) and the University of Zurich. He previously also gained experienced at HKIAC and regularly publishes in his areas of interest, with a focus on international arbitration in Southeast Asia Prior to joining Schellenberg Wittmer, he has worked for the international arbitration and litigation teams of magic circle law firms in Switzerland and Singapore. In this capacity he has already been involved in a wide range of disputes such as construction, post-m&a, supply and licensing agreements as well as court enforcement proceedings. He has worked inter alia under the laws of Switzerland, Singapore, the PRC and Germany and was involved in proceedings governed by the DIS, HKIAC, ICC, SCAI and SIAC Arbitration Rules.
Read more
Manjiao Chi is full professor and founding director of Center for International Economic Law and Policy (CIELP), Law School, UBIE, Beijing. His research fields cover international trade and investment law and policy, dispute settlement, commercial law, sustainable development, global cooperation and public law. He teaches, publishes and practices extensively in these fields. Manjiao is active and is frequently invited to present in major international law conferences, top law schools and other occasions. Among his many affiliations, he is Steering Committee member, Academic Forum on ISDS (Geneva); Scientific Advisory Board Member, KHK Center for Global Cooperation Research (Germany); Headquarter member, ILA and ILA Committee on "Rule of Law and International Investment Law"; Standing Council Member, Chinese Society of International Law; Member, American Society of International Law. He is also a board member of several journals of international law, politics and relations. Previously, Manjiao was full Professor, Xiamen University; Senior Fellow, KHK Center for Global Cooperation Research; and Counsel-in-residence (seconded), Department of Treaty and Law, China's Ministry of Commerce and member of the Chinese Delegation for investment treaty negotiations. Manjiao holds visiting professorship in various European and American universities, including visiting professor of McGill Law School and Saarland Unviersity. Visiting Fellow of German Development Institute (DIE), UNIDROIT, Columbia Law School (Edwards Fellow) and Max-Planck Institute for Comparative Public Law and International Law, among other. He was also consultant of UNESCAP. He frequently serves as arbitrator, expert witness and adviser in a number of international, foreign-related and investment arbitration cases. Manjiao's working languages are Chinese and English, with basic knowledge of German and French. He holds a Ph.D in Law.
Read more
Professor Steve Ngo is an academic and practitioner of international arbitration and dispute resolution. He is the founding President of Beihai Asia International Arbitration Centre, the first international arbitral centre established by Beihai Arbitration Commission in Singapore to focus on disputes arising from China-ASEAN regional trade and investment. As an arbitration specialist, he is regularly sought by clients to assist in the handling of complicated disputes that requires high degree of confidentiality and discreetness.  For instance, he has assisted the government of a major developing country on a sensitive industry dispute and previously also retained to provide guidance and advice on matters arising from the termination of a legacy contract which could have led to a multi-billion arbitration. He is also Chairman of Arbitration & International Dispute Resolution Practice Group of ASEAN Legal Alliance, a private network of law firms each of the ASEAN countries coming together to offer a seamless delivery of legal service across a diverse cultural, geographical and legal backdrop. In addition, Professor Ngo is also a Member of the Ethics Council ('Dewan Kehormatan') of the Association of Indonesian Advocates (Persatuan Advokat Indonesia, 'PERADIN'), Council Member of the Hong Kong International Mediation Centre and member of the AAA-ICDR Asia Advisory Board. Over the past decade, he focusses on India, Indonesia and China, three key growth economies of Asia and South East Asia, including initiatives relating to Belt & Road Initiative (BRI) and ASEAN Economic Community (AEC). He has advised public and private entities not only on post-dispute matters but business negotiation, mediation and dispute management. He has been involved in oil and gas, energy, investment, joint venture, telecommunications, shipping, mining, financial services, international trade and construction. Professor Ngo has extensive experience in dealing with parties from all over the world, bringing strong cross-cultural proficiency not only to international dispute resolution processes but also business strategizing. In the course of work, Professor Ngo has developed experience and understanding in dealing with the private sector, listed companies and public sector in South East Asia, South Asia, East Asia, Europe, the Middle East, Russia, North Africa, North America, South America and Australasia. Professor Ngo has been involved in matters involving arbitration rules of, among others, CIETAC, LMAA, SAC, ICC, SIAC, PCA, LCIA, UNCITRAL, ICSID, HKIAC, UNCITRAL, BANI and AIAC. In addition to international commercial arbitration, he has been consulted on potential investor-state arbitrations, evaluating cases against and for the state party. He is also an Arbitrator at the Thailand Arbitration Center; Qinzhou Arbitration Commission, Beihai Arbitration Commission, Nanning Arbitration Commission, Hainan Arbitration Commission (also mediator on the Hainan International Arbitration Court), Luoyang Arbitration Commission and Shenzhen Court of International Arbitration.  Professor Ngo has been appointed to various positions at various universities and has written and published on subjects relating to international arbitration as well as dispute resolution including books on Chinese and Indonesian perspectives. His views on dispute resolution have been sought by the media and reported.
Read more